Our Services Can Protect and Transform Your Building Just Like They Did for These Businesses
From fatal car crashes into buildings, to sinkholes in parking lots, and everything in between, SP Consulting has fixed it all. We are here to help ensure your building and everyone that visits it are kept safe. Explore some of our case studies before and discover why you should hire us for complete protection services.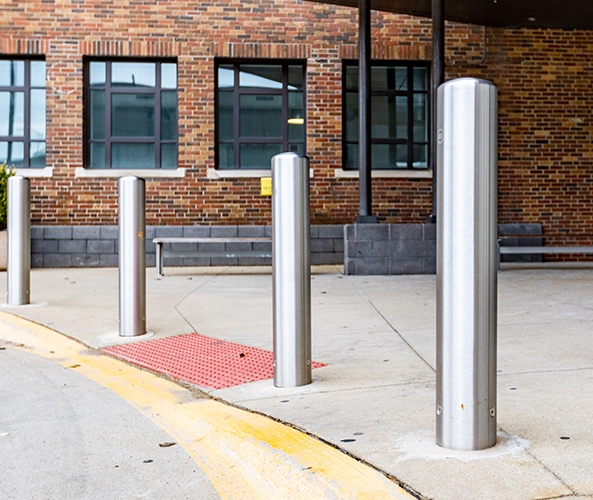 Vehicle Crash Protection at College for Creative Studies A. Alfred Taubman Center in Detroit, MI.
The vehicle crashed through three glass walls. Approximately 100 feet into the building before striking a cement column just before crashing into the college bookstore. The A. Alfred Taubman Center for Design Education, also houses Henry Ford Academy grades 6-11. The kids were in the hallway during the time of the vehicle crashing through the building. Luckily no one was seriously injured or killed from this accident.
SP installed crash barriers in front of both entrances of the Taubman Center to prevent future crashes, damage to the facility, and most importantly ensure the physical safety of those inside. This job was completed within 24 hrs, with no disruption to the school and its students.
Details of the incident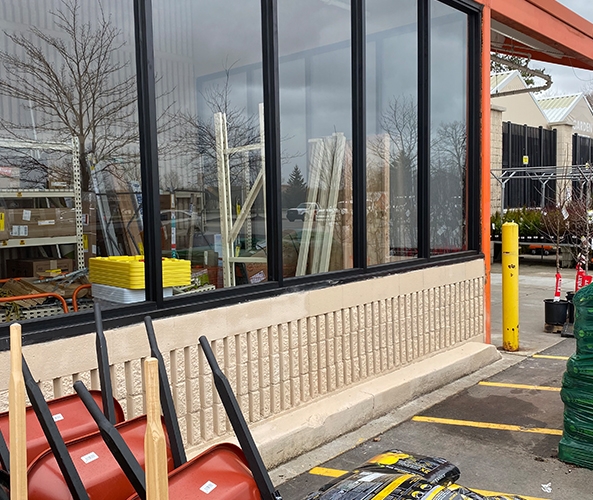 Storefront Repair at Home Depot in Lansing, MI.
A car crashed through the front entrance way of the Home Depot. SP responded to this emergency within 6 hours to secure the site of the crash so that the store was able to open and operate during their normal business hours. We repaired the storefront by rebuilding the brick and installing new window frames and window, and finishing with a fresh coat of paint.
We are not only able to secure perimeters and prevent vehicles from crashing into buildings, but when the unfortunate circumstances of damage to storefronts occur are also able to rebuild and repair the facade of your business. We respond promptly to emergency calls so your business has little to no downtime.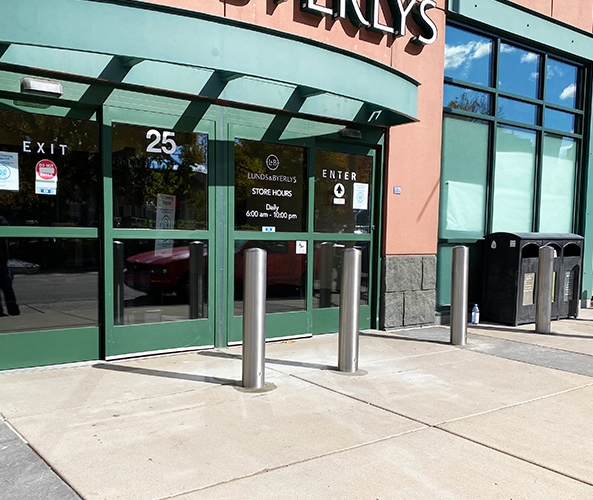 Vehicle Crash Protection at Lunds and Byerlys in Minneapolis
Two people were rushed to the hospital after a vehicle crashed into the side of Lunds and Byerlys in Minneapolis. SP installed crash protection bollards overnight to prevent future crashes and ensure peoples safety at this location.
Incident Footage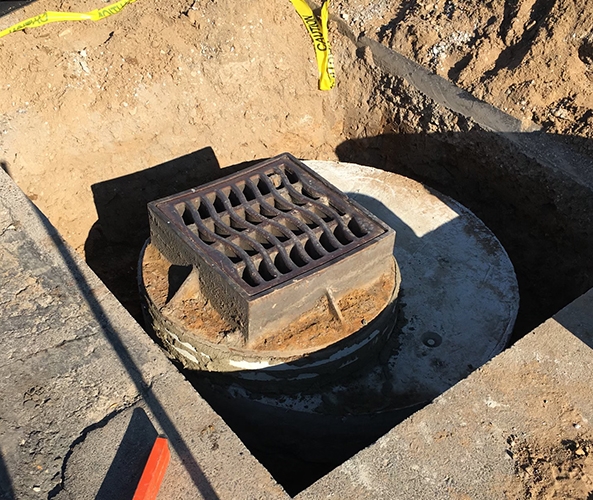 Catch Basin Repair at Home Depot
SP was called out to assess a potential sinkhole in the Home Depot parking lot. The catch basin was collapsing and in need of a rebuild. Our team repaired the structure underground, and repaved the asphalt around the basin so that it was structurally safe to drive over. Sinkholes can be catastrophic and a huge liability to businesses if they are not properly maintained.
We're Proud to Work with Some of the Largest Retailers Across the Country: